4 of the Best UK Road Trips for a Scenic Drive

Whether you're looking for a comfortable and scenic drive amongst the countryside, or wanting an exhilarating ride across rugged coastal scenes, the UK has some of the best and most varied road trips to offer.
Road trips are perfect for the beautiful summer season; light mornings and nights have arrived, the air is crisp, and the sun is shining (usually), and there is nothing better than driving over billowing hills on winding roads.
So, what are you waiting for? Have a read of our top 4 driving locations across the UK, pack up your car and head on the open road.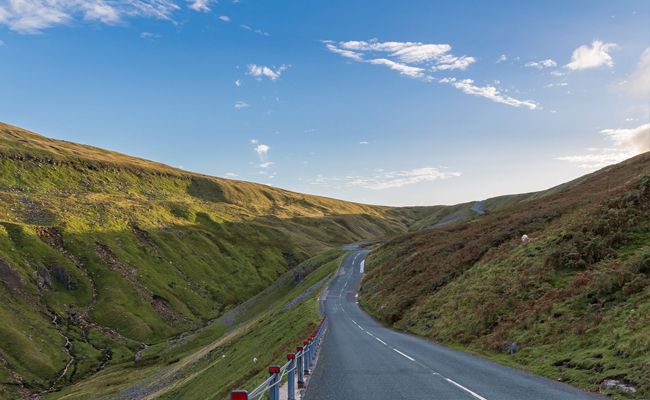 Yorkshire Dales – Buttertubs Pass
Famously, and maybe controversially, renowned as "England's only truly spectacular road" by none other than car fanatic Jeremy Clarkson, Buttertubs Pass is a moderate 5.5-mile-long road through the beautiful Yorkshire Dales.
Travel north from Hardraw, an unassuming yet beautiful hamlet that boasts England's largest single drop waterfall. Then head up towards Thwaite and Muker; drive past the famous 20-metre-deep limestone potholes that have historically been named the Buttertubs.
With several charming villages along the route, you will never fall short of places to stop for a cup of Yorkshire Tea. Drive amongst stone cottages and past beautiful landmarks, such as Castle Bolton that is surrounded by enchanting gardens with an array of floral archways and luscious walkways.
This long and winding route is known for its' fluctuating hills and narrow roads that will leave you feeling in a state of driving-euphoria as you drive across cattle-grids and through the beautiful Yorkshire Dales countryside[1].
Look out for: Pen-y-Ghent.
Although the smallest of the Yorkshire three peaks, this marvellous Yorkshire fell is an incredible 2,277 feet. For those walking fanatics, take a break from the drive, put on your hiking boots and ascend right up to the top of this famous peak.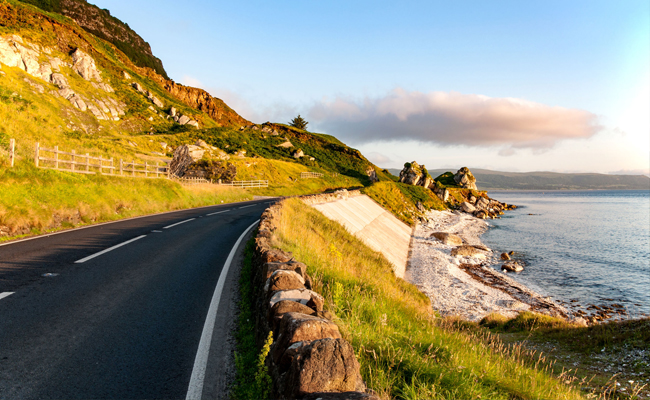 Northern Ireland – Causeway Coastal Route
Recently selected as the top region in Lonely Planet's Best in Travel 2018, The Causeway Coast provides a beautiful insight into the history and geographical diversity of the beautiful Northern Irish coastline.
Drive to the bizarre Giant's Causeway; renowned for being one of the world's most curious geological marvels, this iconic rock formation showcases remarkable hexagonal basalt columns that rise out into the ocean.
A landscape so beautiful that the incredibly famous 'Game of Throne's' series was filmed in multiple areas of this coastal region; you will find yourself completely immersed in a magical setting no matter where you park your car.[2]
Perfect for a long-weekend road trip, the Causeway Coastal route stretches from the diverse city of Belfast and ends in Londonderry, with a glorious drive in between. Boasting some narrow roads and mostly untouched scenery, this drive is an exhilarating one in a somewhat relaxing yet spectacular environment. Drive along the gorgeous coastline with the sea constantly in sight.[3]
Take a trip to: Dunluce Castle.
For those with an interest in history, this astounding medieval castle is a must when driving along the Causeway Coastal Route. Explore this ruined castle to experience your own piece of Northern Irish medieval history.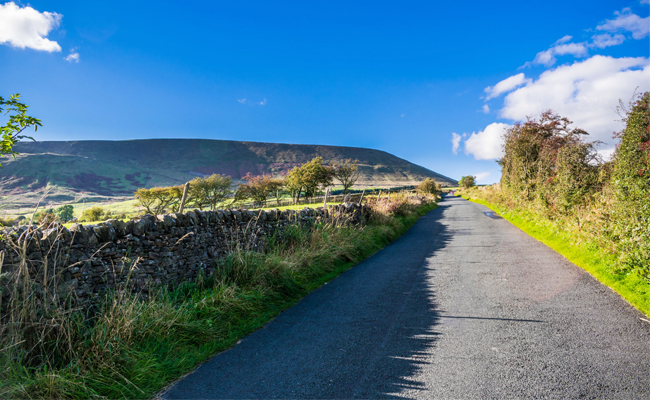 North West England – The Trail of the Pendle Witches
For a road trip that completely engulfs you in beautiful forests and rolling hills, look no further than the mystical Trail of the Pendle Witches. Commence your journey in the quaint village of Barrowford and begin your scenic route up the A682 and through the beautiful Barley village.
Completely based on a story from the year of 1612, place yourself in historic Britain and follow the journey of ten people who were infamously accused of witchcraft. Feel like you're in a mystical fairy-tale as you drive through the Forest of Bowland and end your road-trip at the famous Lancaster castle.
This route boasts a generous 45 miles and offers a smooth and interesting driving experience through whimsical villages. Ride along narrow and winding roads that lead you to the city of Lancaster, where you can enjoy both indoor and outdoor activities no matter the weather.
Spend time in: Clitheroe.
This small and beautiful town within the Ribble Valley is contended as one of the most fanciful towns in the UK. Be sure to visit the beautiful medieval castle that is argued to be the smallest Norman keep in England[4].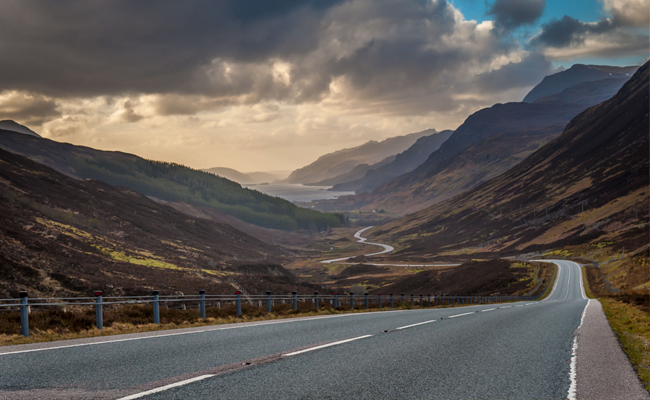 Scotland – The North Coast 500
For those searching for a longer and more substantial road-trip, the North Coast 500 could just be the extraordinary drive you are looking for. Renowned as Scotland's very own Route 66, this scenic journey is a whopping 516-mile circular route that provides you with a panoramic view of the Scottish northern coast.
Begin this route in the beautiful city of Inverness that offers ruined castles and picturesque waterfalls. Then, travel north-east along the coastline, being sure to stop off at the viewing points at Moray Firth; home to dolphins and whales that are often sighted frolicking in this triangular inlet of the North Sea.
The roads of this route are, for the most part, suitable for larger vehicles and inexperienced road-trip drivers. However, be aware to take an alternative road rather than the 'Bealach Na Ba' stretch of the route due to its extremely steep gradients and sharp bends.[5]
Whether you have time to drive the whole route or even just a quarter of this beautiful drive, you will feel completely rejuvenated after a thrilling journey through rolling hills, along bright blue coasts and amongst wildlife that you may not have ever seen before.
Don't miss: The village of John O'Groats.
The most north easterly part of British mainland, this tiny coastal village is famously the starting point for the 'End to End' journey to Land's End in England.
Important – Check your car before your road trip
Whether you have arranged for a long road trip holiday or you are planning a one-day scenic drive, make sure you give your car a thorough check before the trip. This keeps you and your family safe on the road and ensures a comfortable ride through rugged landscapes and winding roads.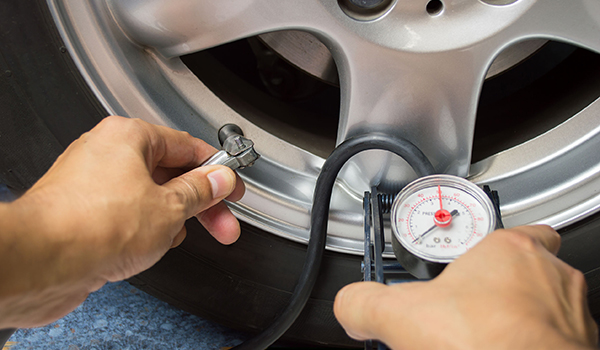 1 - Check your tyre air pressure
Be sure to read your vehicle handbook or the details label on your tyres. From there, unscrew the dust cap, attach a tyre pressure gauge onto the tyre valve stem and apply pressure until the reading appears.
2 - The 20p check
Place a 20p coin into the tread of your tyres to check if your tyres are of the legal limit. If the outer band of the 20p is still visible once placed into the tread, then your tyres could be within an illegal tread limit. If unsure, check with a local mechanic.[6]
3 - Check all fluids
Count 5 fluid checks and your car fluids should all be up to scratch. Keep your vehicle handbook to hand for the recommended amounts of fluids for your car. Make sure to examine your engine oil, brake fluid, windshield washer fluid and coolant. Remember, you need a mix of water and antifreeze even in spring and summer months; never using washing up liquid!
4 - Make sure all lights and signals are fully functioning
The UK weather, roads and cars driving on them can sometimes be a little unpredictable, so ensure all your lights and signalling lights are working to their best ability. Don't be afraid to pop into your local garage and ask to change a bulb if you think it is not bright enough; it is better to be safe.
5 - Be prepared
Ensure you have all emergency equipment in your car. This could include a spare tyre, a road map, a puncture repair kit and any emergency tools such as a battery-powered torch, a screwdriver, pliers and a spanner. This way you'll be prepared for almost anything that comes your way during your road trip.
---
[1]Classic Travelling (2017) Yorkshire Moors & Dales
[2] Discover Northern Ireland (2017) Northern Ireland Game of Thrones territory
[3] TomTom (2017) The Causeway Coastal Route
[4] Visit Lancashire (n.a) Clitheroe
[5] Ian Grieve (2017) Recommended Scenic Drives
[6] RAC (2017) Checking tyre tread