How to Properly Clean and Detail Your Car Inside and Out
A sparkling, gleaming car is one of life's great pleasures. When it comes to cleaning, though, there's a bit more to it than simply suds and a sponge.
In fact, you'll find a near endless list of products you can use to clean, shine, buff and polish your way to a clean car. So, just where do you begin, and what exactly is car detailing?
In this guide, we've enlisted the help of vehicle cleaning royalty Autoglym, who've kindly shared their expert tips.
Here's how to clean and detail your car – properly. Over to Autoglym…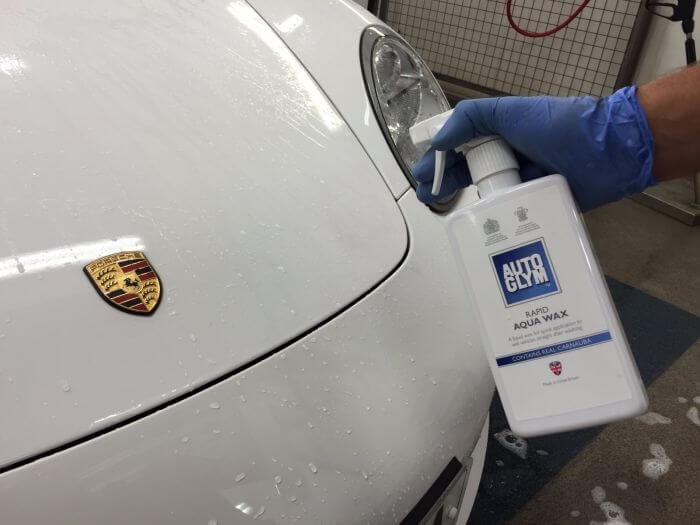 Source: Autoglym
Step 1: Washing and cleaning your car's exterior
First up, cleaning the outside. In winter, you'll find salt residue on your tyres and mud splattered on the body work, and in summer it's that fine dust and tree sap that causes the problems.
How to clean the bodywork
The secret to spotless bodywork, in fact a spotless car, is picking the right tools for the task at hand, in this case Polar Blast and our most popular shampoo, UHD Shampoo. Polar Blast is our latest snow foam and is therefore designed to be applied via pressure washer or foam gun, whereupon it will form a rich blanket of suds.
This foam layer has stunning 'cling' properties, ensuring it remains in contact with your car's bodywork, gently loosening dirt and heavy soiling, in turn preventing swirl marks forming on your paintwork post-clean (often a result of debris being dragged across your paint).
UHD Shampoo is an Autoglym product that you might well have heard of beforehand, largely as it's something of an industry heavyweight – and with good reason. As effective as it is a joy to use, UHD Shampoo is luxurious, high foaming shampoo that glides over bodywork, while its special pH neutral formulation is tough on grime but gentle on paint, making it an ideal tool to have in your detailing armoury.
How to avoid streaks forming
One of the best ways of avoiding the annoyance of streaks is to ensure that you've carried out proper prep beforehand, which in practice means avoiding detailing in direct sunlight and ensuring your paintwork is cool to the touch.
Taking the time to dry the car properly post-rinse is another significant (yet commonly overlooked) step, one worth carrying out even if you're not planning on adding a layer of polish or wax, and even easier to achieve with one of our Hi-Tech Microfibre Drying Towels.
Cleaning your wheels and tyres
Standard alloys will clean up quickly and easily with an acid-based wheel cleaner, like Clean Wheels. It's a product that's been a key part of the Autoglym range for many years, and has therefore proved its worth on some of the most iconic cars of all time.
That being said, our car care boffins long ago realised that acid-based wheel cleaners aren't suitable for all alloys, hence why we're also able to offer Custom Wheel Cleaner, an alkali-based cleaner that's safe for use on alloy, lacquered alloy, steel, chrome, painted, anodised and plastic covers. If you have split rims or black wheels, we recommend just using your shampoo and wash mitt to avoid risking any marks, as these are particularly delicate/soft finishes.
We also have Magma, a new for 2018 product that's designed to take the fight to bonded iron contaminants on wheels, commonly known as 'fallout'. Magma is pH neutral, so can be used on any wheel type, and turns a bright shade of red when it finds and reacts with baked on iron deposits.
Tips for cleaning car windows and mirrors
For in-between washes, a water-based cleaner like Fast Glass is what you need for a quick, crystal clear, streak free finish. A few times a year though, you should polish your glass with Car Glass Polish; you won't believe the results, and doing so regularly will help keep your automotive glazing clear and streak free for significantly longer.
It's also worth remembering that a little goes a long way when it comes to polishing glass, so there really is no point over-applying, as you'll only waste valuable product.
Pro window cleaning tip – once you have finished cleaning the window with the window fully up, wind it down a touch and do the hidden top part. If you don't do this, you're in for a nasty surprise the first time you drop your windows on a hot day in your otherwise shiny car!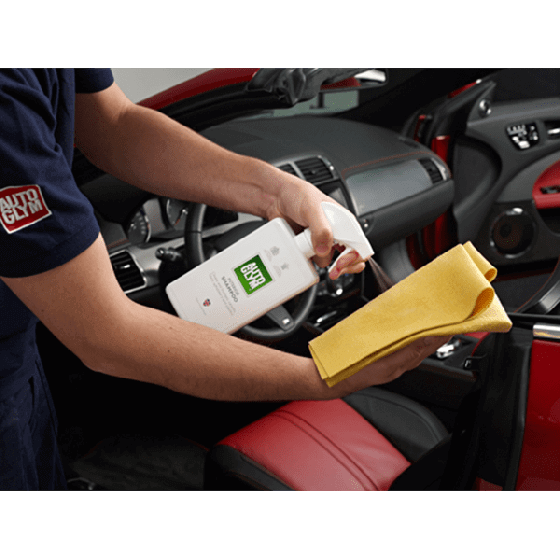 Source: Autoglym
Step 2: Cleaning the car's interior
We've all got that one friend whose car is like a mobile dustbin; discarded drinks bottles in the foot wells, old takeaway wrappers on the back seat. You don't want to be that friend. Or perhaps you have young children and there are crumbs galore in the cabin.
Follow these tips to drive around in squeaky clean luxury.
How to clean car seats and carpets
You start out the same way for any materials in the cabin; a vacuum cleaner and a good brush. The brush will help to free bits out from all the nooks & crannies, enabling the vacuum to suck them away and leave your upholstery prepped for stain removal and finishing. Don't be afraid of all those weirdly shaped attachments that came with your vacuum cleaner – this is their time to shine!
Once you have cleared, it's time to clean. Autoglym Interior Shampoo will get rid of stains on seats as well as cleaning your dash, roof lining and most other materials in your cabin, confirming it as among the most versatile products in our range. Test on a small inconspicuous area first to ensure that the material is not too delicate.
If you have leather, Leather Cleaner will do these areas instead of Interior Shampoo, followed by Leather Care Balm, which will feed and nourish your leather, bringing it back to an as-new, healthy, matte finish.
How to clean your car dashboard
Much in the same way as above; vacuum and brush to get in all the vents, recesses, etc., taking time to ensure that as much of the detritus has been removed before moving on. We'd recommend Interior Shampoo next, as it's ideal for cleaning a wide range of interior plastics and mouldings.
Once you're satisfied that your surfaces are clean, they may be looking a little dull, but don't worry – this is normal. Check out the interior detailing phase for next steps…
Cleaning the windscreen and windows from the inside
When cleaning windows from the inside, the steps are the same as exterior, although you (hopefully) won't need to shampoo your interior glass before commencing the Fast Glass/Car Glass Polish phase.
The importance of doing both sides will become apparent as soon as you do one side, whereupon a sheet of glass you were convinced was utterly flawless mere seconds ago, will be revealed as being anything but!
The rewards for taking the time to tackle both inside and out will become clear when behind the wheel, when you're not sure if your window is up or down. Just try not to hold other motorists up too much as you sit there, marvelling at your work while the lights are green!
Source: Autoglym
Step 3: Exterior car detailing
Okay, your pride and joy is free of dirt and debris. Now it's time to restore that good-as-new sheen – the devil is in the detailing.
But hang on, what do we mean by this?
What is car detailing?
For the uninitiated, car detailing is the process of thoroughly cleaning, restoring and finishing the vehicle as part of the washing process. Many car enthusiasts are fanatical about detailing, as it gives a show-quality shine to the motor.
Car detailing seems to have a few understandings, ranging from newbies who are just getting into it, right up to power-tool wielding professionals, the kind that could well cause damage in less experienced hands. We're going to take a look at it as the average consumer in this piece, or the 'Driveway Detailer' as we like to refer to them.
Detailing is vital if you want to go from clean to WOW! in a few simple extra steps. It includes polishing to restore true colour, removal of bonded contaminants to ensure a smooth surface and applying protective layers to enhance and prolong the fruits of your endeavours.
Here's how to detail your car exterior.
Finishing the bodywork
First up, decontamination. Your car can be plagued by bonded contaminants including tree sap, tar spots and iron fallout, which can and will detract from the overall look of your car. The good news is that all can be removed in one fell swoop, by claying your vehicle with our Surface Detailing Clay Kit. Alternatively, tar spots (or gluey type contaminants) can be removed with Intensive Tar Remover, or iron fallout can be removed with Magma.
Next up, polishing, certainly if you're not planning on undertaking a dedicated 'decontamination' phase. Our primary polish offering is Super Resin Polish, a product that's something of an Autoglym 'super hero,' mainly as it has won more awards than we can keep track of! It's really easy to use, will restore your paintwork's true colour by getting rid of light hazing and swirling, as well as removing small scratches/scuffs/paint transfers.
Once you have a polished surface, it's time to protect it with UHD Wax. This will increase your depth of shine and also protect your surface, still beading in some cases a full 6 months down the road!
This is a long and time-consuming process, granted, but don't despair; it's actually rather fun, need only be done 3 or 4 times a year, and we even have a 'secret weapon' to help take up the slack – Rapid Aqua Wax. This product can be applied to a wet (post-shampooed and rinsed) car, dry as normal, but rubbing the product in as you go. Voila! A freshly waxed vehicle in no time at all.
Detailing the trim and bumpers
Bumper & Trim Gel will make light work of these areas while also leaving a great smelling, deep and rich sheen to your trim. Active Insect Remover is a good way of loosening bug deposits in grilles before the washing phase, and is also well worth doing – decomposing insects can release harmful acid deposits.
Finish off with a coat of Metal Polish for your exhaust tips or any metal trim.
Wheel and tyre detailing
High Performance Tyre Gel will really complete the look of your finished vehicle, giving you the option of nice deep black matte finish, or slick shiny rich black finish, depending on your preference.
You could then protect your wheels with Wheel Protector, or, if you prefer, just keep on waxing! Protecting your wheels will keep brake dust at bay for longer, which is no bad thing when you consider the amount of car shows now on the horizon.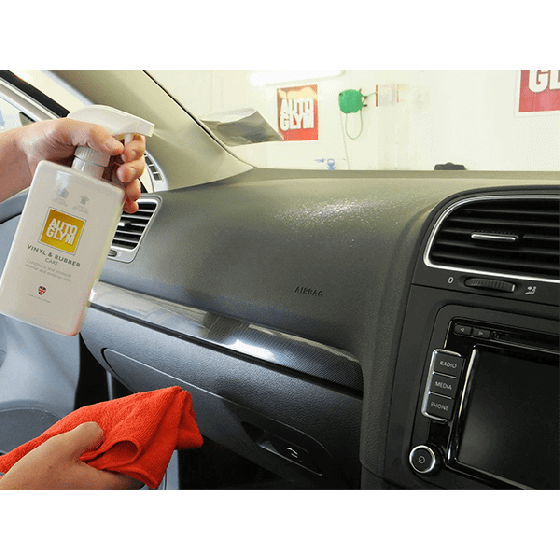 Source: Autoglym
Step 4: Interior car detailing
Following the cleaning of your dash and other interior hard surfaces, you're now ready to use Vinyl & Rubber Care to dress and replenish their rich finish.
Be sure to avoid driving controls and pedals with any silica-based products like Vinyl & Rubber Care, as it can get slippery. When done, spray a bit of Odour Eliminator in the footwells and on the seats; our New Formulation is reactivated every time you sit down!
If summer is approaching (ahem, it is), try out Autoglym Air-Con Sanitiser, perfect for banishing the noxious odours emitted by many AC systems after a long winter of inactivity.
Using the Autoglym Air Con Cleaner couldn't be easier; once the engine and air-con system are in full flow, simply place the aerosol can in its handy holder, made from the original packaging it came in, inside the passenger footwell. Then, simply depress the locked trigger, close the door and allow the air-con system to pull the cleaning and freshening spray through the recirculation system, fighting pongs and cleaning the system in a manner that wouldn't look out of place in the clever CGI part of one of those detergent commercials…
While you relax outside of the car, perhaps with a cup of tea, or a good book, the Autoglym Air Con Cleaner does all the work for you – leaving you to return to the car once it has depleted, before you give it a good airing and then take it for a test drive, safe in the knowledge that if there are any bad smells, it's almost definitely now just the dog or the kids…
It's important to note that the information in this post is a general guide, an overview of how to approach car care. If you're more confident and experienced, you may require some more in-depth guidance. If this is the case, visit http://www.autoglym.com for more information.
Many thanks to the good people at Autoglym for sharing their car washing wisdom and wizardry with us. Want to know more about looking after your car? Take a look at our help and advice page for more information.