Part-Worn Tyres - A Safety Nightmare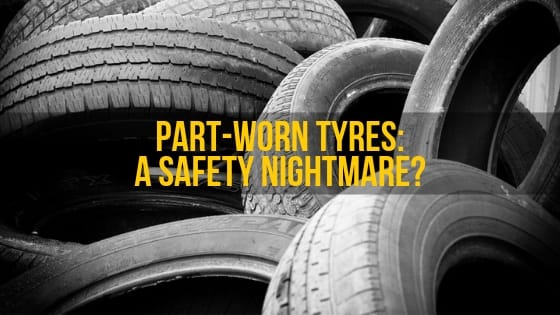 Whilst they may be an attractive option for bargain hunting Brits, just how safe are part-worn tyres? Are part-worn tyres dangerous for you and other road users? The simple answer is yes, they cause unnecessary risks that can be avoided by purchasing a new tyre, but we'll explain why.
According to TyreSafe, more than 1,200 UK motorists are injured in a road collision where illegal, defective or under-inflated tyres are a contributory factor. Not only that, but an investigation ran by TyreSafe uncovered that 98% of part-worn tyres sold in the UK were sold illegally, and 34% of the tyres had damage that was considered dangerous; which certainly isn't helping these safety figures.
For this reason, this is why we strongly recommend motorists to buy new tyres and not risk their and other motorists' safety.
Part-Worn Tyres & The Law
Whilst it's not illegal to sell part-worn tyres in the UK, it's clear from the findings above that the rules to sell them aren't being abided to. As set out by Trading Standards, in order for them to be sold legally in the UK, all part-worn tyres should:
Have an ECE approval mark and a speed & load capacity index

Be marked with 'PART-WORN' in upper case letters at least 4mm high.

Not have a cut over 25mm or 10% of the section width of the tyre

Not have any internal or external lump, bulge or tear

Not have any ply or cord exposed

Not have any penetration damage that has not been repaired

the original tread pattern of the tyre must be at least 2mm deep
Even with the legislation above, we feel like these rules are far too relaxed. Garages can legally sell tyres that have been punctured in the past and repaired, have cuts in them and have just 0.4mm of tread above the legal limit. The fact that the majority of UK garages that are selling part-worn tyres aren't even meeting the criteria above, is worrying.
This is an ongoing issue in the UK and it's posing a huge safety risk to motorists; with the majority of them completely unaware of the danger they're putting themselves and other road users in, as they think buying from a reputable garage should provide them with a completely safe set of tyres.
Origin of Part-Worn Tyres
One of the main concerns of part-worn tyres is their history and not knowing where they've come from. Part-worn tyres could have suffered punctures, uneven tread wear, cracked walls and cuts - causing irreparable damage to the tyre and dramatically reducing its lifespan.
A significant amount of part-worn tyres come from Germany; where the legal tyre limit is 3mm. Other sources include countries in the European continent; where they arrive in the UK stacked high in shipping containers. As you can imagine, the transport of part-worn tyres to the UK can also damage the tyres, as all tyres are intended to be stored flat and in a dry, well-ventilated area - whereas they're often packed into shipping containers where conditions can be very humid; damaging the tyre further.
Reduced Tyre Depth
The immediate, noticeable difference between new tyres and part worn tyres is the tyre depth. The average tyre tread depth on a part worn tyre is 3-4mm; compared to 8mm on a brand new tyre. More shockingly, 2mm is not uncommon (and can still legally be sold) and this only allows 0.4mm of useable tread before it becomes illegal.
Whilst important for traction on dry roads, especially when cornering, tyre tread becomes vital on wet roads. This is because tyre depth, along with the tread pattern, is essential for dispersing water from between the tyre and road surface.
When running tyres with low tyre depth, water is more easily trapped between the tyre and road; leading to a higher risk of aquaplaning and loss of control of the vehicle. The braking distance when travelling at 50mph on wet roads for a new tyre with 8mm of tread is around 26 metres, compared to almost 38 meters for a tyre on the legal limit - that's a 12-metre difference!
Given that tyres are the only part of a vehicle that actually comes into contact with the road, you should never put yourself and other motorists at risk by opting for part-worn tyres - even if you're on a tight budget. In fact, read our 'Are Part-Worn Tyres False Economy?' post to find out why they're more expensive than brand new tyres in the long term.