10 Ways to Reuse and Recycle Your Old Tyres
You've changed your tyres from winter to summer tyres. Now what? You could store the winter tyres in the garage for next year… but are they looking a little old and unusable? We have listed our favourite ways to innovatively reuse your old or spare tyres. Whether you love crafting or feel like starting a new project, here are our top 10 ways to reuse and recycle your old tyres.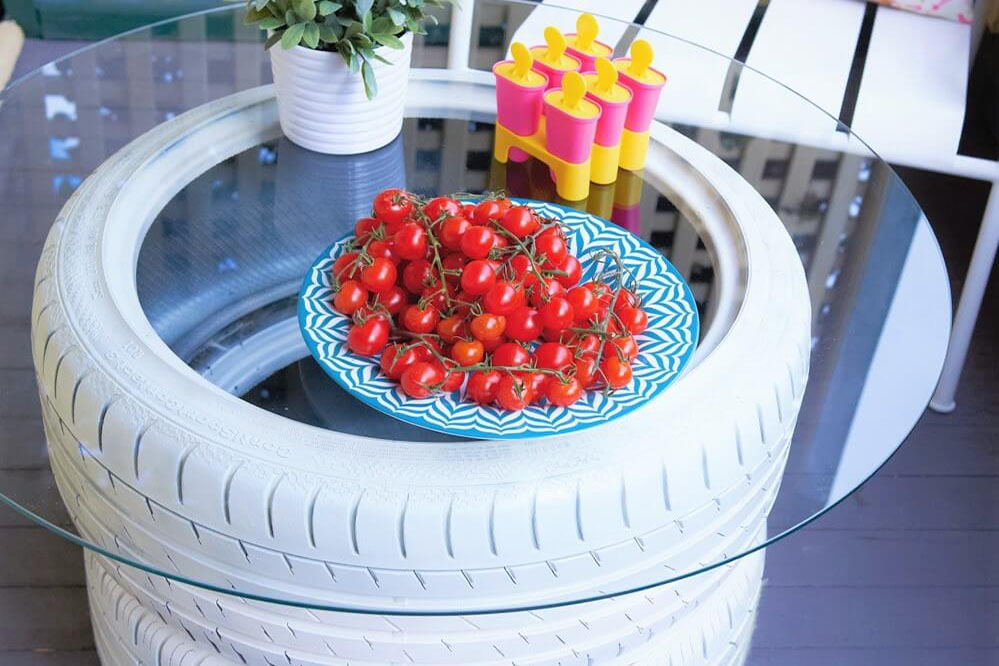 Image Source: Handyman
1) A garden table for the centre piece of your garden party
If you have a couple of old tyres lying around, one of the easiest ways to recycle them is by making a pretty garden table. Simply paint the tyres in the colour of your choice, stack and stick them together using industrial superglue, then place your desired table-top on top. The wonderful thing about tyre tables are that they are totally versatile to whatever materials and colours you prefer.
This lovely table will be the talking point at the next garden party or family BBQ as you proudly display it in your garden.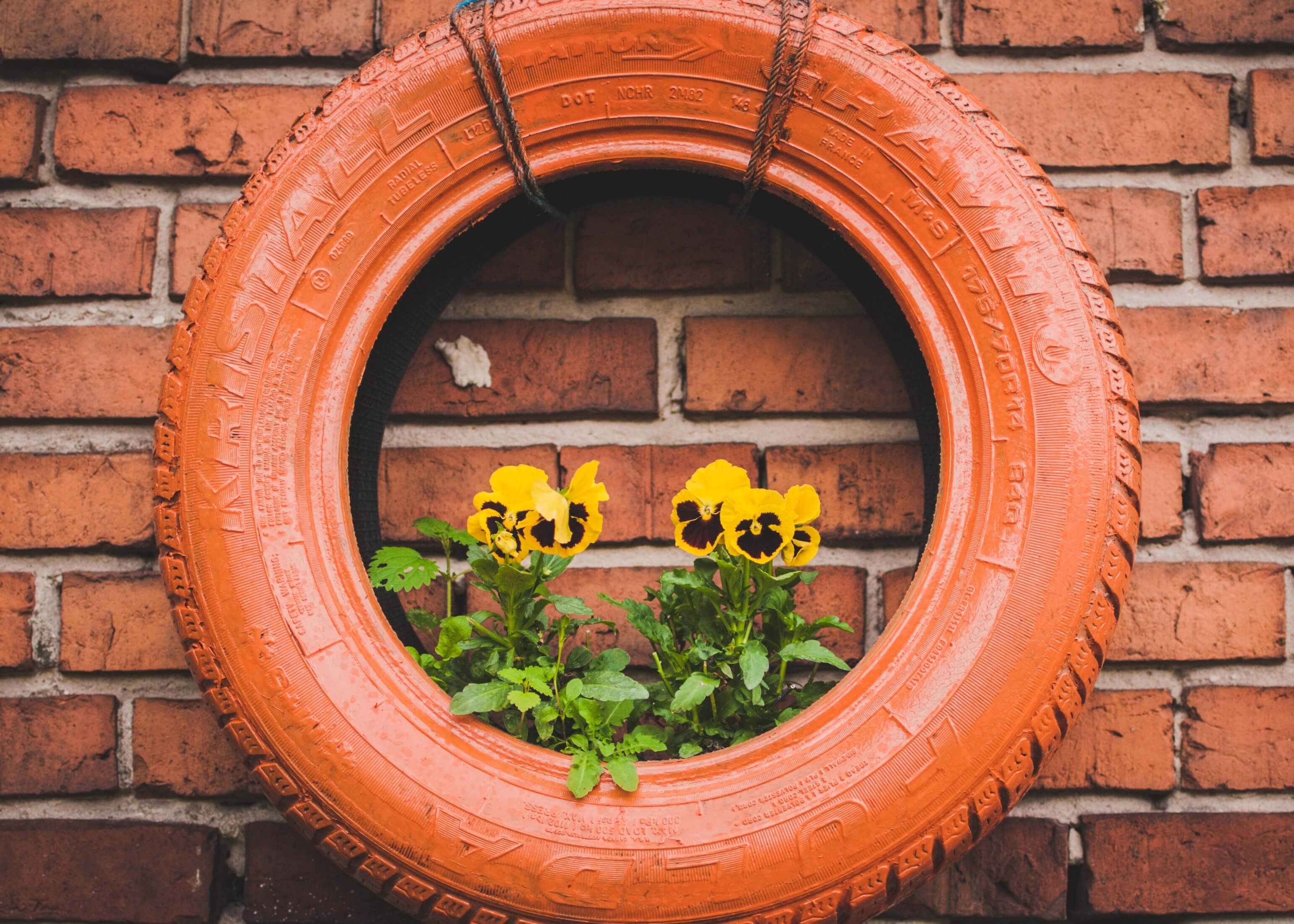 2) Innovative planters to bring life to your garden
An innovative way to recycle old tyres is by turning them into planters. Firstly, decide whether you would like a hanging planter, wall planter or even a floor planter, or maybe you would like a mix of all three.
For a wall or hanging planter, simply line the inside of the tyre with a natural liner, fill with soil and plant your favourite flowers or succulents. Double-up a rope around the tyre as seen in the image above, and either hang on a wall or from a terraced roof, garden fence or a tree! You can also paint the tyres different colours and create a true sense of vibrancy in your outdoor haven.
Floor planters can be made by placing a tyre in a desired spot on grass or flowerbeds, fill with soil then you are free to plant away.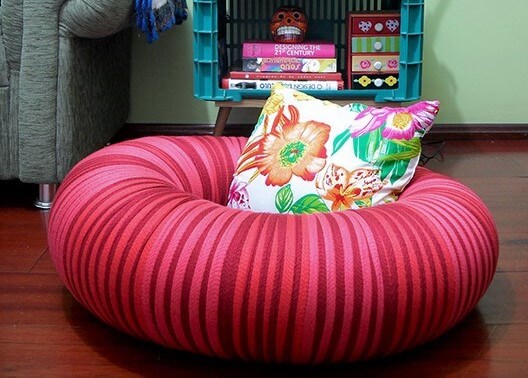 Image Source: I Creative Ideas
3) An indoor pouffe to brighten up your living room
If you thought that recycling tyres meant just sprucing up an outdoor space, then you would be surprised! You can even create on-trend furniture that brings together a cosy room, such as this lovely indoor pouffe seat.
Scrub an old tyre clean, then use thick wool to wrap, tie and knot around the circumference of the tyre. Try to keep the knots to a minimum and to the inside of the tyre. Use different coloured wool for a vibrant staple piece and add a cushion or blanket to relax in.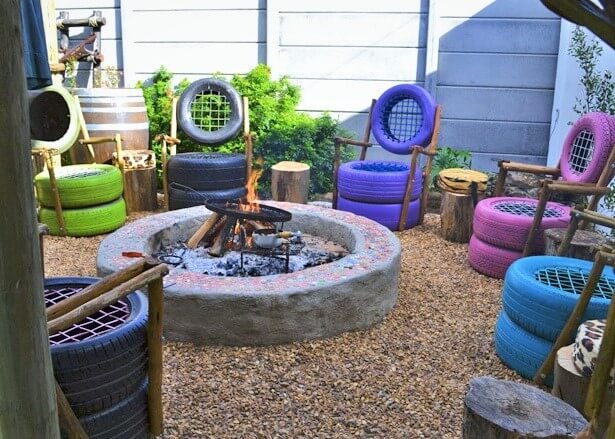 Image Source: Mum's Grapevine
For an avid DIY enthusiast, these garden chairs are a great summer project. All you need is three tyres, ski rope, aluminium bolts and some recycled wood to make one of these wonderful recycled chairs.
If you're feeling adventurous, why not make a whole collection of chairs to bring out during your next garden party; ask your friends and family to hand over their old or spare tyres!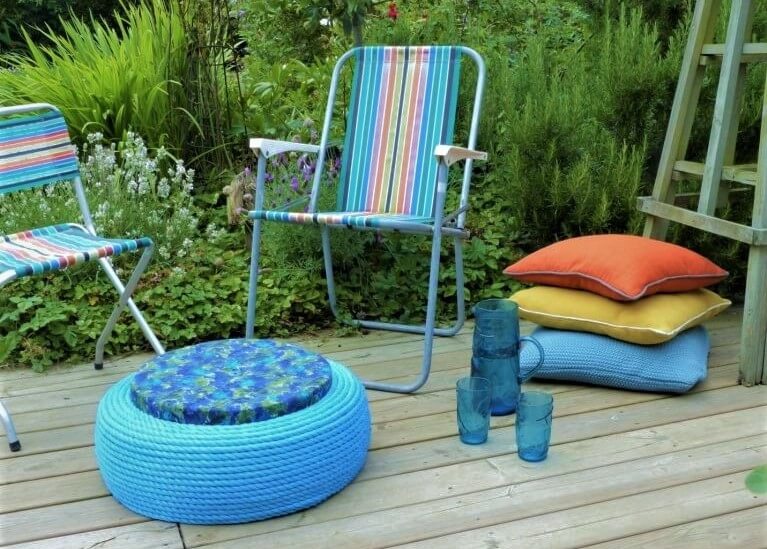 Image Source: Kate Beavis
4) The perfect recycled foot stool
For something a little more intricate, why not create a perfectly rounded rest for your feet. A little addition for both the garden or your living room, this bright little footstool can be made from environmentally friendly or recycled materials.
Here are all the items you will need to make this recycled tyre footstool is:
A small tyre of around 12 inches
30m of 12mm rope
50cm square piece of wood
50cm square of padding
Superglue rope around the tyre until it is completely covered, then measure the inner circle, cut and cover with material of your choice. For the ultimate eco-friendly footstool, why not recycle an old duvet, curtains or even an unwanted piece of clothing. This way you don't have to pay for new material; making this footstool is not only eco-friendly but easy on your bank too.
Creating this footstool requires using tools such as a jigsaw and sharp scissors, so ensure to use with care to avoid any accidents!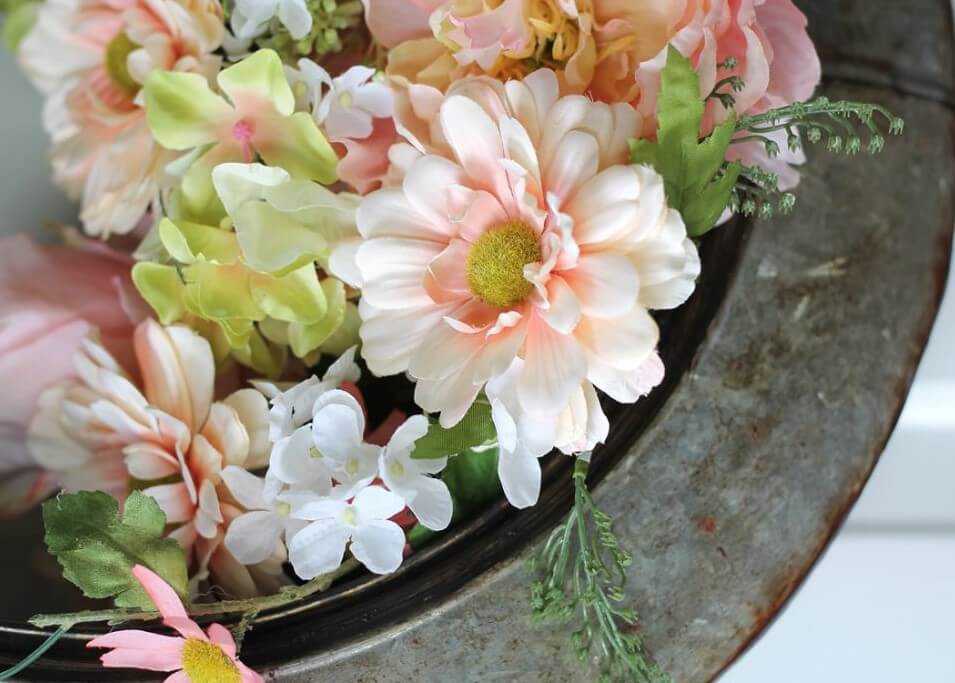 Image Source: DIY Showoff
5) Floral Wreath
For a low maintenance garden feature, why not turn an old tyre into a floral wreath? Plant your favourite flowers or even fake ones into the inside of a tyre. You can decorate the flower-filled tyre with rope, ribbon or any fabric as you would a traditional wreath.
From cute miniature cacti to juicy aloe vera, succulents are one of the most versatile plants that we can get our hands on in the UK. For those who enjoy the look of plants but do not have time to look after them, succulents could be the perfect choice due to their ability to last longer without water. They sit wonderfully in a bedroom, due to their air purifying qualities, but what about in the garden?
A tyre cut in half to use as a base for your succulents is the perfect habitat for these plants. Fill the tyre with soil and plant them tightly to avoid any falling out once hung up on your garden shed door.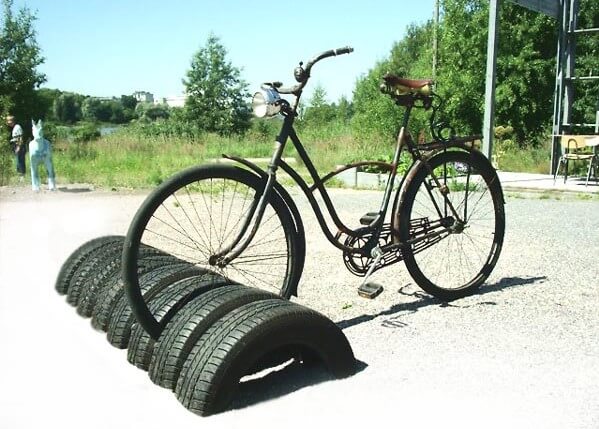 A great one for families with multiple bikes thrown in the shed, or a workplace looking for an innovative way to encourage employees to bike to work, this rack is a unique way to store your bike safely.
This is only recommended if you know how to safely use power tools, as you must cut each tyre in half to then position on the floor. Each half-tyre must be buried into gravel, or if on a wooden decking, glued down with industrial superglue.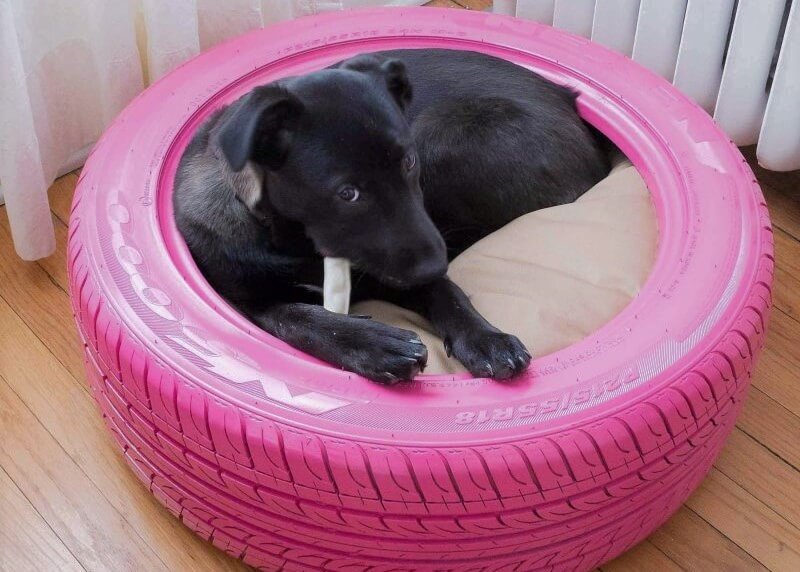 Image Source: Practically Functional
6) A cosy dog bed for your pet to sleep
What kind of dog doesn't love cosying up in their own little bed? So, as a pet owner, wouldn't it be fun to recycle those old winter tyres that have been lying around in the garage and use them instead for your dog's comfort.
All you need to do is scrub the tyre clean and make sure there are no dangerous objects sticking out of the rubber. Then, paint it your dog's favourite colour and add a cosy blanket or pillow. Place the bed in a cool place; do not place it in front of an open fire or directly touching radiators, as this could potentially melt the rubber.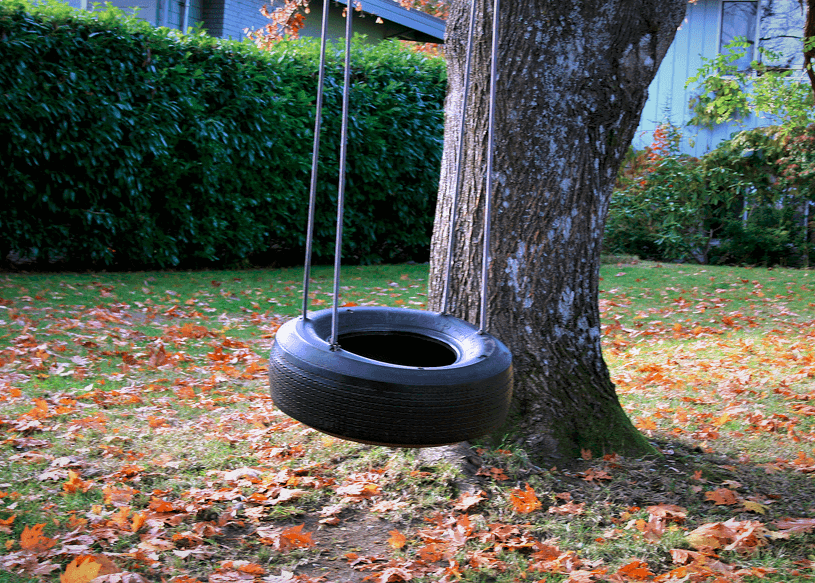 Image Source: Western Tire Recyclers
7) A nostalgic addition to the garden: a tyre swing
Of course, we couldn't give you a tyre recycling guide without mentioning the classic tyre swing. Without even realising, you will have been recycling tyres from a young age with these swings hanging from a tree.
Who knew something so fun could be made from just a spare tyre and some rope?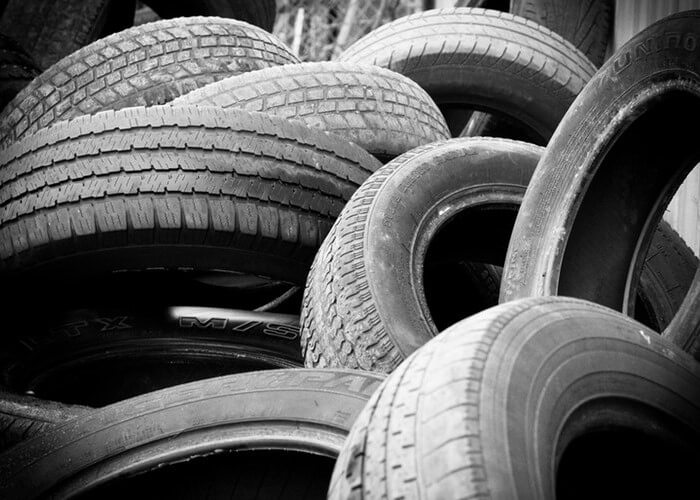 8) Let Tyre Savings take care of them for you
And if crafting is not your style, then how about get your new tyres fitted with Tyre Savings. When you turn up to your tyre fitting appointment at one of our local garages, they will take in your old tyres so that you do not have to find a way to recycle them yourselves. These old tyres are collected from the garages by a licensed company as part of our all-inclusive service at Tyre Savings.